Excellence Symposium
East Metropolitan Health Service's (EMHS) annual Excellence Symposium provides an opportunity to celebrate a selection of services and initiatives that strive to deliver on our vision – Healthy people, amazing care; Koorda moort, moorditj kwabadak – and reflect our value of excellence.
Each year, EMHS sites and services are invited to submit Expressions of Interest, with a small number selected to develop a video which is presented and discussed at the symposium. The presentations are supported by an inspirational key-note speaker, who shares what excellence has meant to them in their personal and professional journey.
2021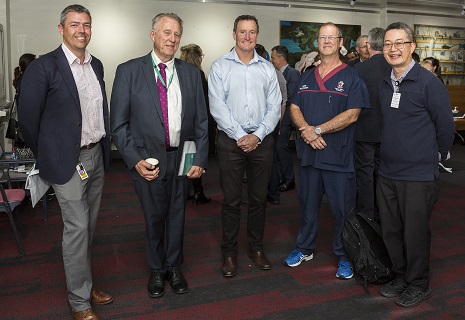 The third annual EMHS Excellence Symposium proved a great success with staff to hear of the wonderful work being undertaken across our health service.
As EMHS Chief Executive Liz MacLeod said when officially opening the Symposium – we have an abundance of 'excellence' occurring right across the service.
"The Excellence Symposium provides an opportunity to turn our gaze within our organisation – to see and hear about the wonderful work underway across our health service by our staff delivering amazing care or demonstrating excellence in their fields," she said.
"Our vision is – Healthy people, amazing care; Koorda moort, moorditj kwabadak – and the examples on show today, clearly illustrate what we are striving to achieve."
Liz said that on behalf of the board and executive, she was so proud to have read through 28 Expressions of Interest from teams across EMHS who were keen to showcase their work at the event.
The projects under the spotlight for their excellence in delivering amazing care were:
Photo – EMHS staff with guest presenter John Worsfold (centre).