Moorditj Djena – Strong Feet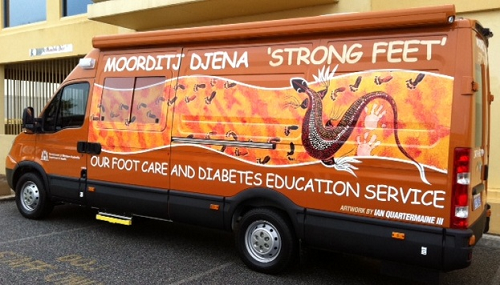 Moorditj Djena (Strong Feet) – Moorditj Djena is a podiatry and diabetes education outreach program for Aboriginal people within the Perth metropolitan area.
Culturally appropriate podiatry and diabetes education for Aboriginal people is provided with a focus on prevention and management of foot complications and their risk factors such as diabetes, peripheral arterial disease, peripheral neuropathy and other chronic diseases.
Clients receive clinical and education services at various community clinics across the metropolitan area in a combination of community venues and the mobile clinic van.
Many of the clinic locations are in partnership with other agencies and stakeholders providing services to Aboriginal people, resulting in a shared-care approach.
Services provided by Moorditj Djena include:
Podiatry for assessment, treatment and education of all foot related concerns.
Aboriginal Health Workers for health interventions for prevention methods, health education, support and advocacy.
Diabetes Educator to help clients self-manage their diabetes effectively and prevent complications.
Dietitian to discuss healthy eating for diabetes and other chronic conditions, including ideas for shopping on a budget, cooking healthier meals and providing recipes.
This multidisciplinary team can coordinate the clients care by initiating recall systems, providing intervention and referrals relative to the patient's risk category. Clients from Moorditj Djena are referred into Primary Health Networks, community based organisations and other external service providers for a seamless client journey.