Putting a new thinking cap on - 3D printing skulls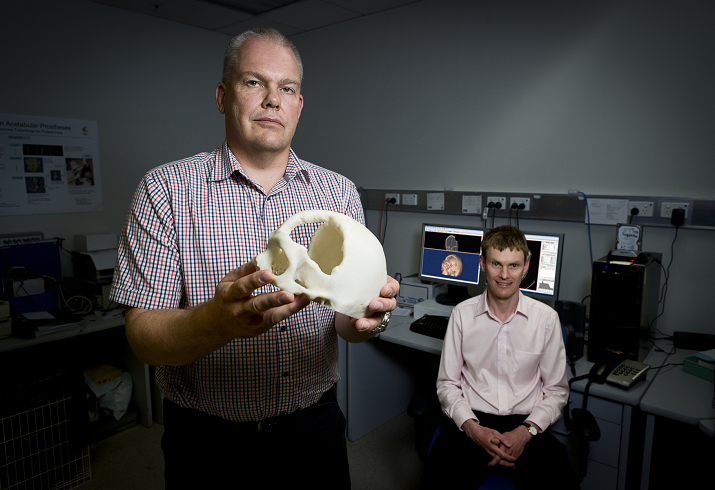 Congratulations to the tissue engineering team from our Health Technology Management Unit, Cell and Tissue Therapy WA and the Department of Neurosurgery who have now progressed to the final round of the 2018 WA Innovator of the Year Awards.
The team of Dr Alan Kop (pictured, left) Dr David Morrison (pictured, right), Dr Stephen Honeybul and Dr Marian Sturm are now competing with only four other finalists in the Emerging Innovation Category of these important awards.
The team's exciting research program involves a clinical trial that is underway to explore how tissue engineering can be applied to harvest the power of stem cells and utilise advanced manufacturing techniques such as 3D printing.
This innovation could potentially allow the team to reconstruct a person's skull after they have had a serious accident or cancer surgery by regrowing their own bone.
The team are now required to provide a presentation about this ground-breaking technology to the award Evaluation Panel to elaborate on the innovation, its commercial potential and the impact/benefits that the innovation will have for Western Australians.
We are so proud of the efforts of this wonderful team and wish them all the best for this final assessment.
The 2018 WA Innovator of the Year program awards ceremony will be held at the State Reception Centre in Kings Park on 7 November.
Watch the Innovator of the Year video: