EMHS Youth Innovation Think Tank 2020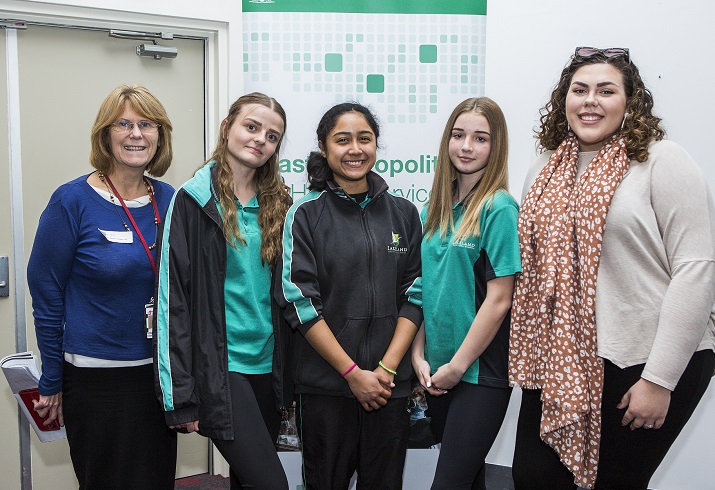 On Tuesday 11 August year ten and eleven students from seven high schools attended the annual EMHS Youth Innovation Think Tank.
The EMHS Youth Innovation Think Tank pairs high school students with clinicians and subject matter experts to collaborate on innovation solutions to common health issues.
This year we hosted students from Lakeland Senior High School, Mercy College, Swan View Senior High School, Comet Bay College, Belridge Senior High School, Methodist's Ladies College and Shenton College.
The students, guided by their expert mentors from EMHS and Child and Adolescent Health Service (CAHS), tackled either telehealth digital literacy or adolescent patient transition with the goal of finding a workable solution.
The students then pitched their ideas to an Executive Judging Panel, who chose Methodist's Ladies College (MLC) as the winning team.
MLC focused on the issue of adolescent patient transition and developed an innovative 'QRious' system using Quick Response (QR) codes and a volunteer-run hub at RPH to help adolescent patients manage their transition from paediatric to adult health services.
The EMHS Innovation team will work with MLC, EMHS and CAHS mentors, and relevant stakeholders to develop a formal proposal to trial their 'QRious' solution for EMHS and CAHS.
All participants of the Think Tank were enthusiastic and developed truly innovative and forward-thinking solutions to complex health issues.
Thank you to all the students for participating, and to the EMHS and CAHS staff and Executive for taking the time to mentor our future leaders.
See the full summary of the Pitches ideas below:
Adolescent patient transitions
Comet Bay College – 'Cloud Health' App
Smartphone app designed to integrate transition including planning for appointments, medication and immunization schedules and a symptom diary
Mercy College – 'The Liminal Space'
Physical space at an adult hospital to create a supportive and welcoming environment for adolescent patients
MLC – 'QRious' (winner of the event)
QR codes located at both hospitals, delivering tailored, site specific information to adolescent patients on their smartphones, to help them navigate their transition
Swan View SHS – Adolescent patient transition app
Simplify the booking and cancellation of appointments through a smartphone app tailored to the needs of adolescent patients including a chat room, helplines, calendar, and hospital clinic location maps. Designed to address DNA rates of adolescent patients during transition
Digital literacy and Telehealth
Belridge 1 – 'Digital Companions'
Digital companion program for elderly patients experiencing difficulty using telehealth services - assist the elderly patients to attend telehealth appointments and resolve any technical telehealth issues before, during and after the appointments
Belridge 2 – 'WA Telehealth Language Network'
Suitable CaLD patients referred to Outpatient Clinics would be identified for WATLAN and linked in with a preferred doctor who attends the patient's telehealth appointment to offer cultural support and use the preferred language to answer patients queries and provide appointment summaries.
Shenton College – Telesupport
Patients are referred to their preferred community centre, library or pharmacy to assist with either their connection to the telehealth appointment and use existing digital technology infrastructure to undertake the appointment. QR codes would be used to simplify the onboarding process.
Lakeland SHS – 'MediMobile' (received an honourable mention)
Improving access to Telehealth for homeless patients through proposing the MediMobile - the MediMobile van would contain telehealth equipment and staff and be stationed across the Perth metropolitan area, being accessible to homeless patients at central locations. Appointments could be made at homeless shelters and community support centres.