P.A.R.T.Y. Program recognised for outstanding achievement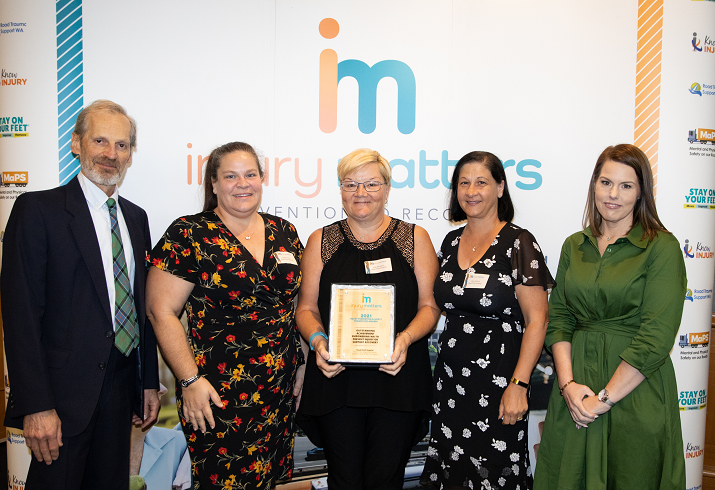 East Metropolitan Health Service is proud of RPH's Prevent Alcohol and Risk-related Trauma in Youth (P.A.R.T.Y.) Program, which has won at the 2021 Injury Matters Injury Prevention and Safety Promotion Awards.
The program, which aims to promote injury prevention through reality education, was awarded in the category of 'Outstanding Achievement Empowering WA to Prevent Injury or Support Recovery Award'.
The program also received a highly commended in the 'Outstanding Achievement in Injury Prevention or Safety Promotion' category.
Clinical Nurse Kath Blackman, Clinical Nurse Kellie Christie and Clerical Officer Lilian Camilleri represented the P.A.R.T.Y. Program at an awards ceremony held on 25 March.
The focus of the P.A.R.T.Y. Program is to provide youth the experience of an imaginary trauma patient from the Emergency Department, Intensive Care Unit and trauma wards at RPH.
Participants are enabled to recognise risks, make informed choices, and learn about potential traumatic consequences.
The award is a great achievement and highlights the significant impact being made by the P.A.R.T.Y. Program, and represents the hard work involved in establishing and running the research-based program.
"This was an absolutely amazing achievement and one we are extremely proud of – especially considering the year we have all had and needing to change our delivery," said Kath.
The Injury Matters Injury Prevention and Safety Promotion Awards showcases the great work that is being done to prevent and reduce the impact of injury within Western Australia. The awards are run by Injury Matters.