EMHS acknowledges NAIDOC Week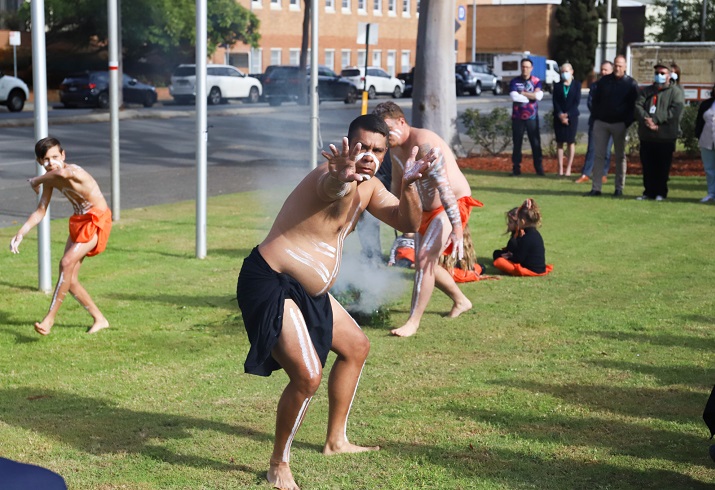 This week, staff from across our health service acknowledged NAIDOC week – celebrating the achievements of the last year in our continuous journey to close the healthcare gap, improving the way we provide culturally safe, amazing care to our Aboriginal patients and consumers.
Importantly, the week also provided an opportunity for each of us to think about this year's NAIDOC theme Get Up! Stand Up! Show Up! and how we can all ensure Aboriginal peoples; their cultures and lands, are given the representation and respect they deserve.
Today, the EMHS Aboriginal Health Strategy Unit (AHSU) held the EMHS NAIDOC Week Event at Royal Perth Hospital.
EMHS Acting Chief Executive Joel Gurr attended the event and reaffirmed our organisational commitment to be an inclusive and safe place for our Aboriginal patients and staff.
"As a health service, we have a vital part to play in ensuring Aboriginal peoples receive equality in healthcare," he said.
We are committed to closing the health-care gap and ensuring our Aboriginal community live well, long and healthy lives."
The day was filled with the sharing of stories and reflections and the official opening of the NAIDOC week display.
We were joined by Noongar Elder Charne Hayden, who began the day's celebrations with a moving Welcome to Country.
Noongar Maaman Ryan Humphries led our collective healing with a Smoking Ceremony while the Doorum Dancers performed three dances to much applause.
The launch of the Welcome to Country and DAMA videos in the Bruce Hunt lecture theatre marked the culmination of two years of collaboration between the EMHS Aboriginal Health Strategy Unit, the RPH DAMA Working Group, Aboriginal Interpreting Services WA, Aboriginal community members and the Medical Multimedia and Design team.
Created to address the high incidence of DAMA within our Aboriginal community, the videos aim to make our Aboriginal patients feel safe in hospital.
These will be rolled out across EMHS sites and services.
"It is fantastic to see so many people attend and support our Aboriginal staff, patients and consumers," Joel said.